August 17, 2017
Members of the Veg Parents Hong Kong group are used to scepticism about raising children on a flesh-free diet, but will consult experts regularly to ensure their ethical and health reasons are not compromising nutrition needs as their child grows.
As Emily Sim lays slices of avocado onto a bed of rice and seaweed, she counts each piece with her two-year-old son Henry. "You're doing well, aren't you?" she coos, snuggling the boisterous toddler, who asks for more dried mango as he watches his mum prepare the family's evening meal.
Henry has been raised as a vegan from birth – he doesn't eat eggs, dairy products or meat. Sim avoids leather, silk and wool in his clothing, and constantly checks bottles to ensure baby lotions are cruelty-free and not tested on animals. "There are some things you can never avoid," she says. "But we do the best we can."
Henry has been raised as a vegan from birth – he doesn't eat eggs, dairy products or meat. Sim avoids leather, silk and wool in his clothing, and constantly checks bottles to ensure baby lotions are cruelty-free and not tested on animals. "There are some things you can never avoid," she says. "But we do the best we can."
Sim, an Australian, runs the Facebook group Veg Parents Hong Kong, which she set up not long after moving to the city with her husband in 2015 – just before Henry was born. She is one of a number of local parents proving that children can thrive as vegetarians or vegans, even in a city where meat- or dairy-free options aren't easy to spot on menus.
The group is a source of information and tip-sharing for its 350 members, who swap recipes, ideas for meat substitution, and advice on the best places to buy food, and also organise meat-free social events. "We have vegans, pescatarians [people who eat fish, but not other flesh], vegetarians … and many are still eating meat but are trying to give their kids more veggies," Sim says.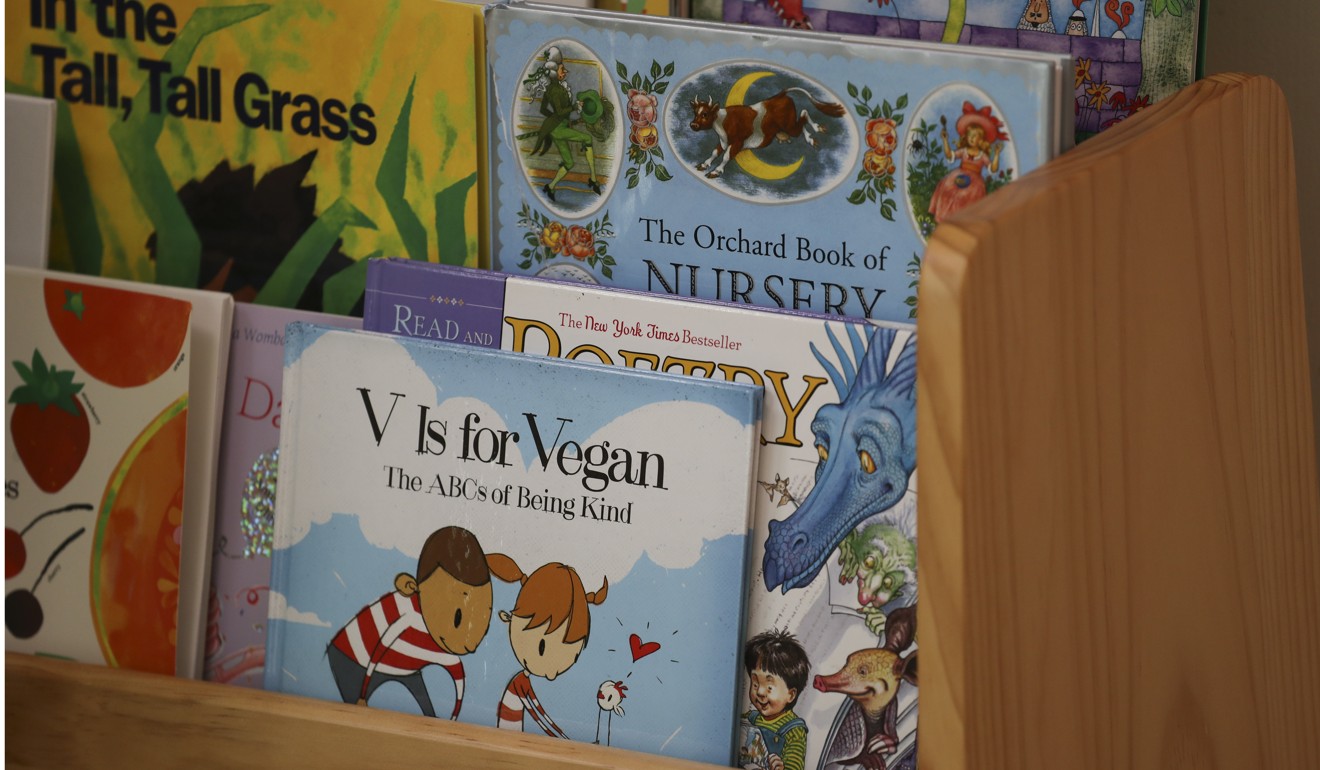 Compared to an adult choosing to make the switch to a non-animal diet, raising a vegan baby comes with extra nutritional considerations, particularly during the nursing phase when the baby's brain is developing. Mothers who cannot, or choose not to, breastfeed can use soya-based formulas, which, although nutritionally complete, can contain vitamins derived from animals.
The World Health Organisation recommends a plant-based diet rich in vegetables and warns against processed meat, while doctors say babies can be raised safely on a meat-free diet if parents make sure they're getting enough nutrients.
Debate in the vegan community was stirred recently by the case of a Belgian couple convicted of the death of their severely malnourished infant son. The seven-month-old was fed a meat-, dairy- and gluten-free diet from birth, and, in the absence of breast milk, was given various milks made from different types of flour and grains, which lacked nutrients and protein.
In June, the judge ruled the baby's death in 2014 was "the result of the systematic offer of food that was not suitable". Instead of noting the parents' failure to feed their son enough calories and take him to hospital before it was too late, headlines instead spotlighted their veganism and stirred up outrage towards the wider vegetarian community.
Coverage of the case was unfair, says Hongkonger Stevie Go, who runs Meat Free Hong Kong, a group that promotes vegetarian and vegan diets and organises events. He said the baby's death was not caused by veganism, and caused a moral indignation that meat-eating parents wouldn't be subjected to.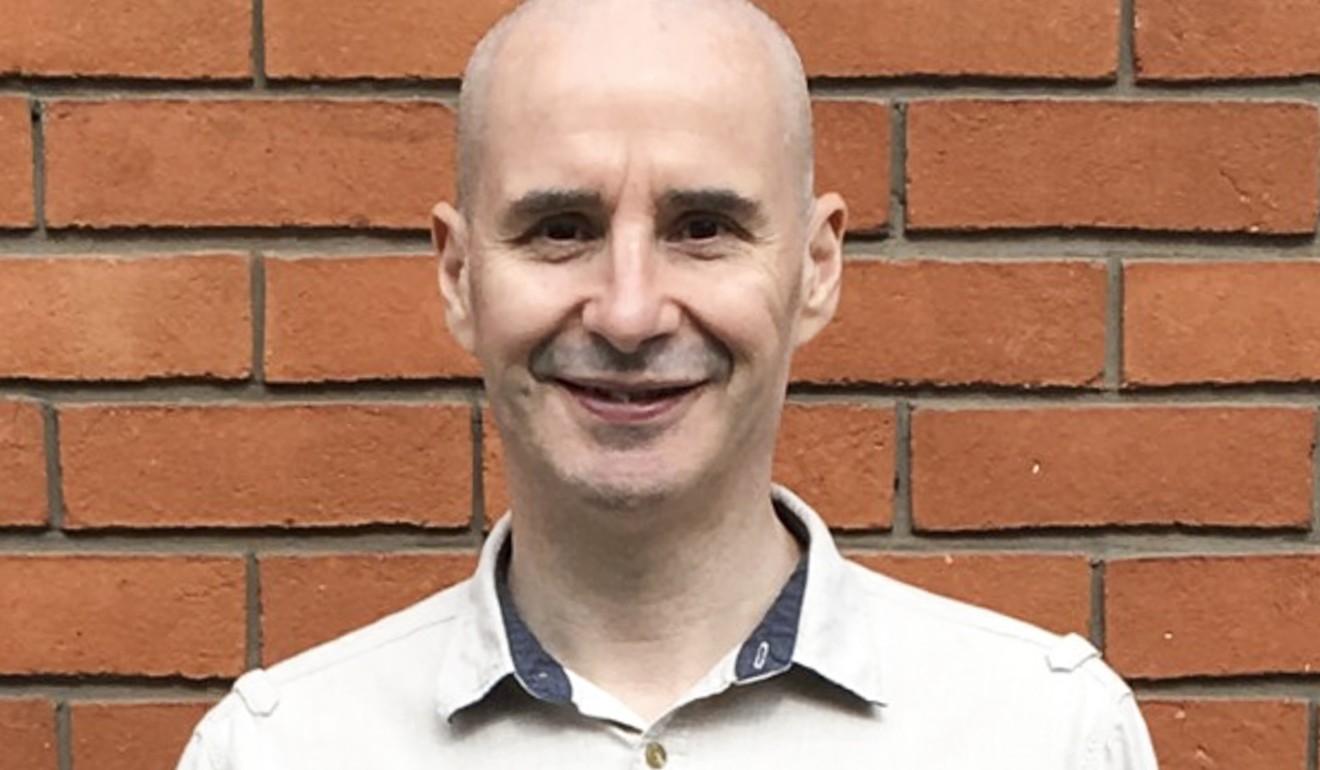 "Highlighting vegan parents in child-neglect cases has clickbait potential that doesn't seem to exist for omnivorous parents," he says. Go, who became vegetarian 27 years ago and vegan 10 years later, extols the benefits of raising children on an animal-free diet.
"Diets without animal products don't just offer all the nutrition requirements for optimal human health," he says. "They are also without nasties such as cholesterol that are impossible to avoid when eating animal products."
Dr Fatima Cody Stanford, an obesity specialist at Massachusetts General Hospital in the US, says to ensure their child's brain develops healthily, "Parents need to pay particular attention to adding vitamin B12, calcium, zinc, and high-quality protein to their child's diet to ensure optimal nutrition and growth." If some nutrients aren't easy to source, parents can use supplements, she says.
Sim is used to questions about her son's health. "Often, when people find out Henry is vegan, they'll be shocked. There's a misconception that he's neglected and malnourished," she says. "But I tell people that organisations around the world, like the American Association of Dieticians, state that a vegan diet is healthy for all stages of life."
The family sees a dietitian every six months and Sim says the check-ups are for peace of mind, as she is confident that her son is flourishing. "I know more about nutrition than many other parents because I've done so much reading. I wouldn't raise him vegan unless I was 100 per cent sure it was safe and healthy. And we know that it is."
Although her husband eats meat when the family visits restaurants, the food Sim prepares at home is vegan. But she suspects Henry will want to copy his father and try meat one day. "I wouldn't be too concerned, but, personally, I wouldn't want to buy or cook meat for him," she says. "My approach is to teach him about compassion. I want him to be aware of what that meat is and the cruelty involved. Hopefully he'll stick with veganism and continue to be compassionate."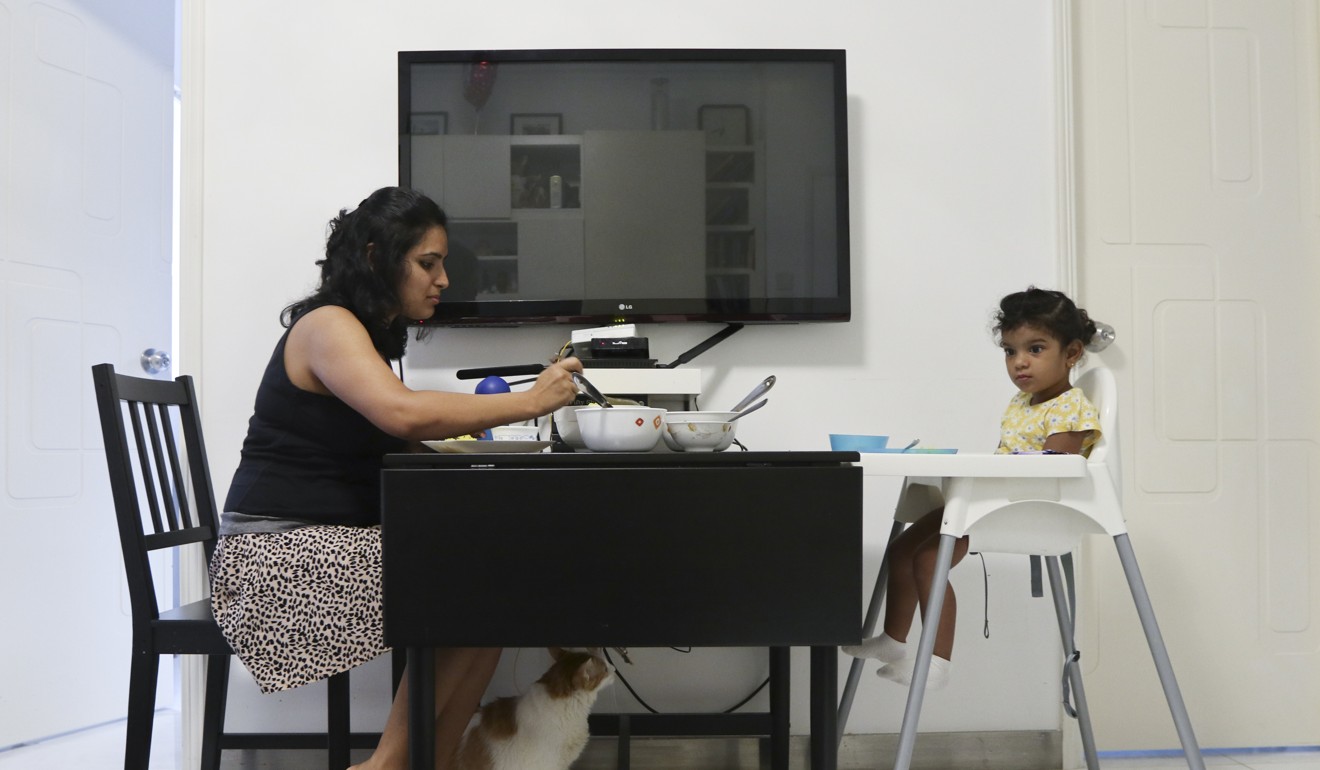 Megha Chaddah is one of the mums who found Sim's forum useful after moving to Hong Kong 18 months ago from India, where vegetarianism is "just a way of life", she says. "No one sees it as being out of the ordinary, or asks if our diets need to be supplemented."
A vegetarian since the age of 12 for ethical reasons, Chaddah has a two-year-old daughter Rhea, who eats eggs and some dairy foods, but not meat. Like Sim and her husband, Chaddah's partner is omnivorous, and the family has two cats that eat meat.
As Rhea starts linking the friendly fish she sees on TV with the tinned tuna the family's pets devour, the couple expects it's just a matter of time before she starts asking questions. And like Sim, if Rhea wanted to try meat, Chaddah wouldn't be upset. "Rhea is starting to get more aware and, one of these days, she's going to ask 'why is daddy eating different from us?'"
"I'd try to explain why mama wasn't eating that. She's pretty smart – it's like if I'm baking and say, don't touch the oven. She doesn't have to touch it to know it's hot."
Being vegetarian in Hong Kong is easy and inexpensive, says Chaddah, who shops online for bulk foods, like lentils, a staple of Indian cooking and a favourite source of B-vitamins and protein among both vegans and vegetarians. She says she has never been in any doubt over whether Rhea is getting enough nutrients.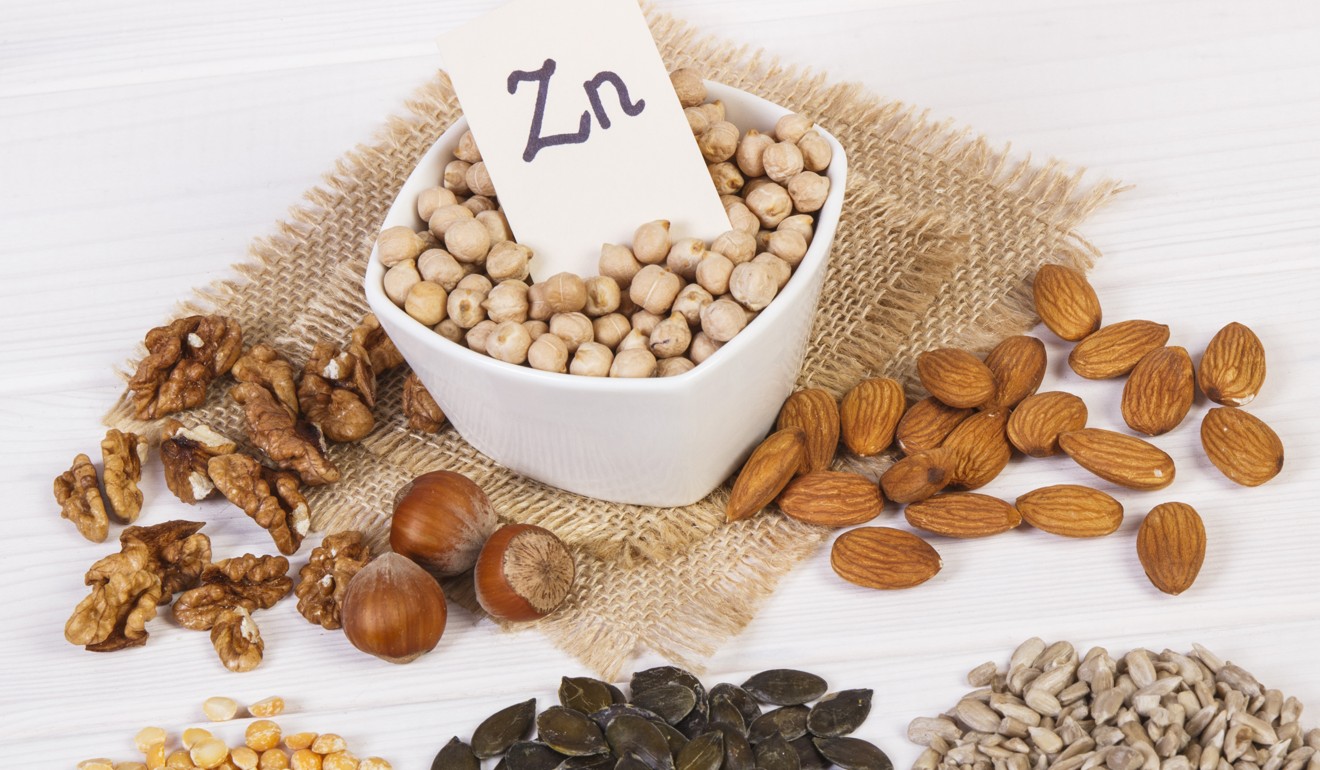 "In Indian cooking, most of the food groups are covered: your plant-based proteins, your carbs, fats, dairy, and trace vitamins … I feel that Western families thinking about going vegan have a lot more concerns in terms of nutrition – whether they're getting enough compared to meat eaters," she says.
Chaddah doesn't see herself becoming full vegan in the near future, but has cut down on milk due to her concerns about the dairy industry. "Given I'm a mum now, the thought of taking milk away from another baby is starting to throw me off … It's a difficult habit to break but Hong Kong has lots of different choices, like soy and almond milk," she says.
In vegan restaurateur Grace Nguyen's eyes, veganism needn't be a compromise when it comes to feeding her two daughters, aged nine and 12. The Vietnamese chef, who has been vegan since 2002, runs two vegan restaurants in her home country. Food education has always been important to Nguyen: while pregnant, she did a lot of research into what nutrients she should be consuming.
And rather than showing her children graphic documentaries about the farming industry, she simply took them for ice cream one day to illustrate why the family was vegan. She explained that the dessert they were enjoying came at a high cost to the environment, and the calves having been separated from their mothers.
Her own move to veganism was rooted in both scientific facts and spirituality. "Being vegan is good for your health, the environment and animals," she says. "Killing animals for our pleasure isn't right. They're intelligent, they have feelings, they feel pain and they're scared to die. My daughters understand that very well."
As well as home-made vegan ice cream, Nguyen has also created versions of fried "chicken", macaroni and non-dairy cheese, burgers and banh mi sandwiches to make sure her daughters don't feel like they're missing out on treats or fast food their friends are eating.
All three mums agree that the meat-free movement is gaining momentum in Hong Kong, meaning that their children will grow up in a city that increasingly understands and caters to their diets.
"Raising a vegan child takes some education," Sim says. "But we really try to think of it as a lifestyle. In Hong Kong, there are more vegan restaurants and more vegan options in non-vegan restaurants. People are leaning towards veganism more now. It's on the up all over the world. It's becoming more normalised."